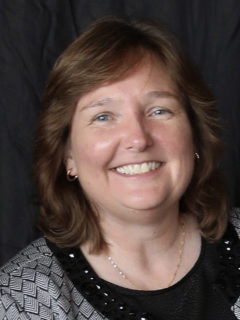 Associate Professor, Functional Genomics

Office:

Room 432 Kleberg

Email:

Phone:

979-862-7015
Education
Undergraduate Education

B.S. Biology, Purdue University

Graduate Education

M.S. Cytogenetics, Purdue University
Ph.D. Molecular Genetics, Texas A&M University
Professional Summary
Dr. Penny Riggs is an Associate Professor of Functional Genomics in the Department of Animal Science, with an adjunct appointment in the Department of Veterinary Integrative Biosciences. She earned a bachelor's degree in biology and a master's in cytogenetics from Purdue University. She first joined Texas A&M as a Regents Graduate Fellow and earned a doctorate in molecular genetics from the Interdisciplinary Program in Genetics. She conducted postdoctoral work in radiation biophysics as a Texas Aerospace Fellow at the University of Houston and the NASA Johnson Space Center, followed by postdoctoral and research faculty appointments in carcinogenesis at the University of Texas M.D. Anderson Cancer Center's Science Park – Research Division, where she also directed functional genomics and bioinformatics core services for its NIEHS Center for Research on Environmental Disease.
Her research focuses on analysis of gene, RNA, and protein expression, function, and signaling relevant to the inheritance of production traits and disease susceptibility in beef cattle and other food animals. Current research emphasis focuses on genomic characterization of bovine skeletal muscle traits, especially meat quality.
Dr. Riggs served as Associate Vice President for Research at Texas A&M University (2019-2022) and as Senior Advisor to the Assistant Secretary for Policy, Management and Budget in the Office of the Secretary of the U.S. Department of the Interior (2018-2019). She chaired the Council of Principal Investigators at Texas A&M (2017-2018) and was the founding Chair of the Research Development Fund Advisory Committee. She also served as founding director of the Whole Systems Genomics multidisciplinary research initiative that is now known as the Texas A&M Institute for Genome Sciences and Society. Dr Riggs is a member of the Public Policy Committee of the American Society of Animal Science. Other professional memberships include the American Association for Cancer Research, American Genetic Association, American Meat Science Association, Gamma Sigma Delta, Sigma Xi, and the Texas Genetics Society.