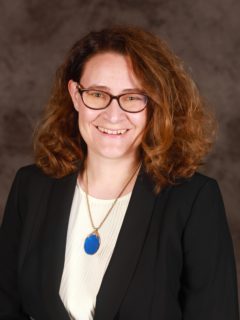 Instructional Professor; Associate Head for Academic Programs

Office:

133 E Kleberg Administration Office | 442 Kleberg

Email:

Phone:

(979) 845-2045
Education
Undergraduate Education

B.S. Animal Science, Oregon State University

Graduate Education

M.S. Animal Science, Oregon State University
Ph.D. in Physiology of Reproduction, Texas A&M University
Professional Summary
Kathrin Dunlap, Ph.D., is an Instructional Professor and currently serves as the Associate Department Head for Academic Programs within the Department of Animal Science.
Inclusivity within the discipline of animal science is a priority within Dunlap's courses, and has emerged as an area of interest in her research program. As a non-traditional animal science student herself, she is keenly aware of cultural pressures that can exist within the discipline. Resultantly, she has worked to develop courses that do not include an assumption of previous exposure to agricultural and animal science related activities. In the fall of 2021 she will be part of the initial cohort of instructors to teach in the 21st Century Classroom Building at Texas A&M University.
Dunlap's professional memberships include the Interdisciplinary Faculty of Reproductive Biology at Texas A&M University, the International Society for the Scholarship of Teaching and Learning, and the American Society of Animal Science.