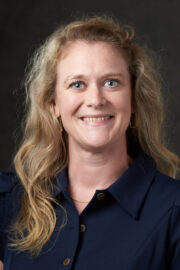 Associate Professor, Animal Welfare

Office:

212 Kleberg

Email:

Phone:

(979) 862-9171
Education
Undergraduate Education

B.S. Zoology, Oklahoma State University

Graduate Education

M.S. Zoo & Aquarium Management, Michigan State University
Ph.D. Animal Science, Michigan State University
Postdoctoral training, Center for Animal Welfare Science, Purdue University
Professional Summary
Dr. Courtney Daigle is an Associate Professor in the Department of Animal Science at Texas A&M University.  She received a Bachelor of Science in Zoology in 2004 from Oklahoma State University. She worked in the zoo industry for several years before continuing her education at Michigan State University where she received a Master of Science in Zoo & Aquarium Management (2008) and a Doctor of Philosophy in Animal Science (2013).  During her graduate training, Dr. Daigle worked as an intern with the Smithsonian's Conservation Biology Institute (2008), was a Junior research fellow at Wageningen Institute for Animal Sciences (2011), and was the technician for the Animal Behavior and Welfare Laboratory at Michigan State University (2008-2014).  She worked as a Postdoctoral Research Associate in the Center for Animal Welfare Science and the Center for the Human-Animal Bond at Purdue University (2015).
Dr. Daigle specializes in evaluating the impact of environmental (e.g., stocking density, environmental enrichment) and husbandry (e.g., social mixing, stockperson perceptions) and temperament (e.g., factors on captive animal welfare.
Current research efforts include characterizing behavioral phenotypes indicative of thermotolerance in dairy cows, evaluating the impact of stocking density on developing beef heifer welfare, quantifying the impact of environmental enrichment on captive cattle productivity, behavior, and welfare, and is exploring the possibility of detecting sick cattle using scent detection dogs.  Dr. Daigle also contributes to research efforts evaluating the impact of diet and strain on broiler breeder welfare.  The Daigle laboratory integrates disparate data types and takes a flexible approach to problem solving.  Data generated by the Daigle lab is gathered using body mounted sensor technologies, video decoding, surveys, live observations in the field, and by cooperating with industry partners.
Dr. Daigle teaches two undergraduate courses (ANSC 289: Animal Welfare Judging and ANSC 404: Behavior and Management of Domestic Species (hybrid in-person and online)) and teaches an online graduate course in Animal Welfare Assessment (ANSC 652: Online Animal Welfare Assessment; co-taught with Virginia Tech and Michigan State University). Dr. Daigle is a faculty advisor for the Animal Welfare and Behavior Club and serves as coach for the Texas A&M Animal Welfare Judging Team.
Publications