September Competitive Teams Results
October 5th, 2022
Horse Judging Team
The Texas A&M University Horse Judging Team competed at the 2022 APHA Lonestar Horse Judging Contest in Ft Worth, Texas, on Saturday, October 1. The team was 4th overall in a tight and tough competition with just 13 points separating them from first. Texas A&M University had the High Individual Overall, Raylee Ezzell. Also, capturing 9th High Individual Overall was Courtney Wall. In Halter the team was 3rd overall, Raylee Ezzell was the High Individual in Halter. The team was 5th in Performance, Raylee Ezzell was 8th in Performance. In reasons the team finished 3rd, with Raylee Ezzell taking 7th in reasons, and Kelsey Morgan taking 9th in reasons. The team is excited to travel to Ohio in a week and keep leveling up for a continued competitive season!

We would like to thank Alumni for continued support and our jacket sponsors who include Circle P Feed & Supplies, Shining C Grulla Horses, Boerne Marine, Texas Equine Hospital, Mohawk Flooring, and Aggieland Outfitters. The team is represented by 2022 team members Hailey Bell, Raylee Ezzell, Megan Miller, Kelsey Morgan, Kensi Parker, Grace Ritter, Courtney Wall, and John Wofford. The team is coached by Sarah Schobert and Assistant Coach Hannah McLochlin.
Livestock Judging Team
World Beef Expo
The team took a great trip up north getting to see extremely high-quality stock and enjoyed some beautiful fall weather and ended with a win at World Beef Expo in Milwaukee, WI, on September 24.
Team Results
Team 1 – 1st overall, 1st reasons
Team 2 – 3rd overall, 3rd reasons
Team 3 – 6th overall, 6th reasons
Individual
Katie Kempen – 1st overall, 1st reasons
Gunner Crawford – 2nd overall, 2nd reasons
Tar Tut – 5th overall, 8th reasons
Logan Jackson – 8th overall, 9th reasons
Gage Hogan – 10th overall
Big thanks to Blake Bloomberg, Tim Hubbard and everyone at WBE for such a high-quality contest!
We appreciate the following firms for letting us come by on the trip:
Doonan Cattle
Barton Cattle
Lastovica Cattle
Blount Farms
Boyert/Core
JS Simmental
Wilson Cattle Co
Impact Hamps
Bobby May Cattle
Geffert Cattle
Flint Hills Classic
The Aggies are brought home another victory from the Flint Hills Classic on September 30 in Kansas!
Team
Maroon – 1st overall, 1st reasons, 1st cattle, 1st sheep/goats, 4th hogs
White – 5th overall, 2nd hogs
Individual
Katie Kempen – 2nd overall, 1st reasons, 3rd cattle, 10th hogs
Kristen Massingill – 4th overall, 1st cattle, 3rd hogs, 7th reasons
Maddie Schroeder – 8th overall
Logan Jackson – 2nd sheep/goats
Gage Hogan – 4th hogs
Michael Rezendes – 7th cattle
Gunner Crawford – 8th sheep/goats
Thank you to Chris Mullinix and Ryan Higbie and everyone from KJLS for such a high-quality contest.
We had great workouts at the following firms:
Inman Family
Pfeiffer Farms
Hobbs Show Lambs
Meat Judging Team
Eastern National is in the books. We finished in 4th place overall, but we had some great accomplishments and personal bests! Two in the Top 10 and 5 in the Top 10 Alternates. They also got to see some pretty amazing sites along the way!
Team was 2nd in overall Reasons, Beef Judging, and Lamb Judging
High Individuals
Alexandra Smith – 7th
Rylie Philipello – 9th
High Individual Alternates
Gage Walsh 3rd
Nathan Barrett 6th
Avery Foster 7th
Cassie Brown 9th
Bailey Lamb 10th
Other team members include: Molly Hicks, Abby Tack, and Morgan McKinzie.
The team is coached by Kaylee Greiner. The team will compete next at the American Royal Contest in Omaha, NE.
Ranch Horse Team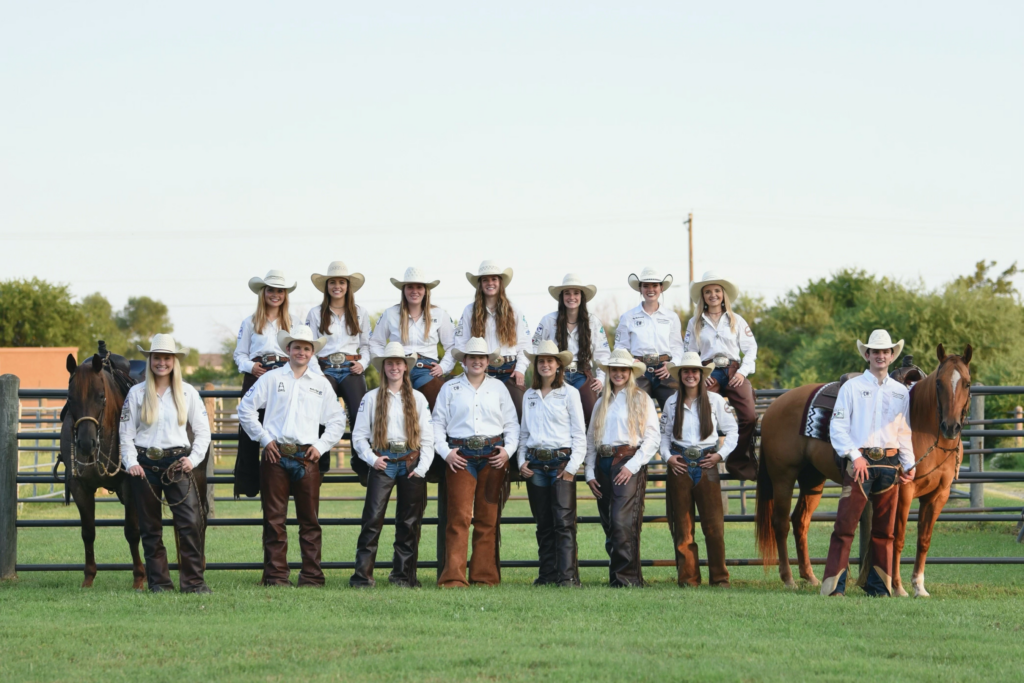 The Ranch Horse Team competed at the Stock Horse of Texas Show in Bryan, Texas, on September 24 taking home the 1st Place Collegiate Team. Below are the results for the team:
Non Pro
Whitney Moody

Overall: 7th
Cow Work: 3rd
Reining: 9th
Trail: 5th

Emma Thrasher

Overall: 5th
Pleasure: 3rd
Trail: 3rd
Cow: 5th
Limited
Sara Saxe

Overall: 1st
Reining: 1st
Cow: 1st
Trail: 1st
Pleasure: 8th

Kaley Berkely
Novice
Anna Beth Muck
Haley Winkler

Overall: 1st
Pleasure: 3rd
Trail: 7th

Reagan Loxton

Overall: 4th
Pleasure: 10th
Cow: 2nd
Trail: 1st
Reining: 10th

Grace Chambers
Texas Aggie Rodeo Team
The Rodeo Team started their season at the Panola College Rodeo in Tatum, TX. It was a great start with the Men's team winning first and the Women's team was third. Madi Outhier won the Breakaway roping. Aly Ghormley was fourth in the Goat Tying and Emma Smith was third in the barrel race. On the Men's side, Gatlin Peck won the calf roping, Connor Atkinson was fourth and Chance Little was sixth. Gavin French was fourth in the bareback riding event and Boyd Hanagriff was fourth in the steer wrestling. There are nine more rodeos, but this was a great way to start.