Writer: Blair Fannin, 979-845-2259, b-fannin@tamu.edu
COLLEGE STATION – A herd bull is a key investment for cattle producers and several factors come into consideration when deciding on which one is best for an operation, according to Texas A&M AgriLife Extension Service experts.
Dr. Jason Cleere and Dr. Jason Banta, AgriLife Extension beef cattle specialists from College Station and Overton, respectively, recently conducted a one-day workshop on bull selection.
When selecting a bull, Cleere said, "I encourage you to look at the big picture."
Herd size and correctly matching the perspective bull to cow ratio is one thing to keep in mind.
"Part of this decision is the age of the bull and its previous breeding experience," Banta said. "A bull that has bred before as a yearling will cover more cows than one without previous experience. Acreage size is another thing to consider or how much a bull can cover to breed a cow. Hilly terrain can affect breeding coverage, so also keep this in mind."
Banta said one of the factors affecting fertility in a bull is size of testicles.
"We are actually measuring the widest part of the scrotal circumference," he said. "Once a bull starts puberty, scrotal size grows, and slows down as they get older. It's not uncommon to see a centimeter to two centimeters change per month."
Measuring scrotal circumference provides a good indication of testicular volume,  sperm production, sperm quality, puberty of bull, puberty of daughters and is a heritable trait, Banta said.
Two big things when we talk about sperm quality is motility (how many sperm cells are alive and moving) when looking under a microscope, and morphology – are the sperm cells normal?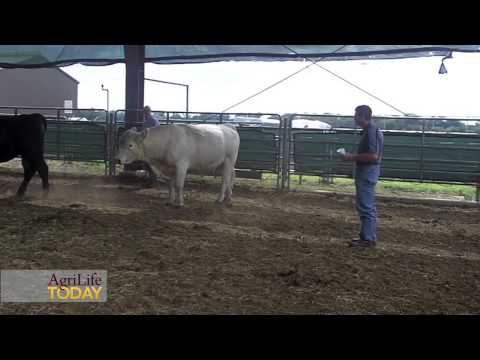 "Primary abnormalities occur in the testis and secondary abnormalities in the epididymis," Banta said. "The probability of a bull having satisfactory semen quality increases from 30-38 centimeters; circumference is highly correlated to total sperm output, moderately correlated to normal sperm morphology.
"The thing you need to realize is care should be taken in avoiding bulls with extra-large scrotal circumferences. Injury can occur while out in the pasture," Banta said.
Fertility and potential calf birth weights were other points to study, he said.
"Genetic potential for growth and price per pound are other things to consider," he said.
Cleere advised producers to avoid buying bulls with an unknown background. He said producers should consider buying from a breeder who specializes in producing quality genetics for commercial operations.
Next, consider how much you are willing to pay for a bull.
Half of the genetics from a cow herd will be generated from the female and the other half from the bull.
"That bull is over half of your calf crop," Cleere said. "Folks spend $1,500 to $2,000 on replacement females and then gripe about spending $1,500 on a bull. He makes a huge impact on the genetics of a commercial cow herd."
He said breed type, individual performance data, pedigree and visual appraisal are some of the items to consider when purchasing a bull.
"You are not going to use all of it during selection, but some of those apply to the goals of your operation," he said.
Banta said Expected Progeny Differences or EPDs are also used in bull selection. These are an estimated measure of the genetic impact of a parent on the offspring. EPDs are used to compare genetic potential for traits like birth weight, yearling weight and milk production for an animal and vary depending on breed.
Another point to consider is what is the best breed type?
"That's the million dollar question," Cleere said. "Because we don't have a controlled environment in Texas, we have different types of cattle that are best suited for different parts of the state."
Those are the Trans-Pecos, High Plains, Central Texas, East Texas, Gulf Coast and South Texas areas, he said.
Heterosis or hybrid vigor also plays a big role in cattle selection for Texas ranchers, he added.
"The more harsh your environmental conditions are, the more important heterosis is," Cleere said. "Hybrid vigor is very important."
Both Cleere and Banta said strong interest at the previous two bull workshops will lead to another educational opportunity in the future.
-30-
via AgriLife Today | Cattle producers hear latest on herd bull selection at workshop
---
For more information regarding news from the Department of Animal Science, College of Agriculture and Life Sciences, Texas A&M University, please contact Courtney Coufal at cacoufal@tamu.edu or (979) 845-1542.